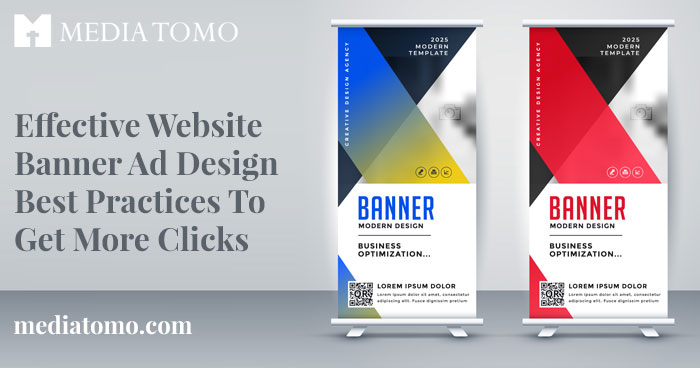 When creating a website, say, for your business or personal use, you will require additional visual components like the banner ad design to complement the purpose of your website and its products or services.
Thus, one of those compelling visual components that can really change the face of your website is the use of banner ads.
As such, the e-Commerce industry, social media, and various other business platforms rely heavily on online advertising, creating effective banner ad design can fulfil this task. It's just a digital way of promoting products and/or services through your website to your online visitors around the globe.
Here, we are going to show you how to create an effective banner ad design for your website that best fits your needs and the type of business you own. It is not only useful for promotional purposes but it can also grab the attention of visitors who view your website and attract web traffic thus, giving you an opportunity to grow your business.
How Banner Ads Prove Beneficial For Your Website And Business Goals?
Banner ads, also called 'web banners' are basically advertisements that are created for the World Wide Web (WWW) as a whole and are delivered by an ad server. Today, banner ads play a significant role in online advertising by embedding advertisements into web pages.
So, if you already own a website and want to promote any kind of products, services, etc., these banner ads are what you need to be able to successfully accomplish your business objectives.
Benefits of an effective banner ad:
New generation digital advertising methods such as using a phrases phrase. With the advancement of technology, digital advertising also changed, you should keep this in mind before promoting anything online.
Supports both still and animated banner ads.
You can create a movement of a still image, it may work for you.
Means of displaying ads for products or services on your website. This states why you promote the products or services on your website and what is the importance of to do so.
You can personalize a banner ad design that suits your needs. More often they should be in the public domain. The main thing to advertise your product or services is to grab the attention of the people or visitors who can take an interest in your product.
Create a scope of targeting the right audience. This can come with the experience of creating the right banner ads.
Increases web traffic when clicked. The more web traffic on your banner ads, the more beneficiary your business too, hence more profit you gain.
Chance of creating a brand of your business with success in a long or short period. In other words, you and your business can get a new image that can be recognized by your peers.
Best practices to create effective banner ad design
Our team consists of professional graphic designers having a zeal in creating effective banner ads for your website. The team consists of expert graphic designers with a thorough knowledge of the current trend in the market of banner ads. You can simply consult with our team of experts to have guidelines regarding effective banner ads on your website.
You may also hire professional designers who can help you create and embed banner ads on your website so that you can promote products or services and, at the same time, gain some traffic for your website.
1. Structuring and Prioritising Banner Ads
Many online advertisements on websites contain banner ads. Therefore, it is necessary to properly design the structure of banners ads and prioritize them on your website for much better results.
2. Use of Images in Banner Ads
Choosing the right type of image for your banner ads will decide the possibility of grabbing attention from visitors. It's always a good idea to use images that are relevant to your advertisement.
3. Company logo
Must include a company logo in your banner ads with a dominant frame but not as dominant as a call to action or value proposition. In other words, it somehow reflects your company as a promotional brand of the product in the banner ads.
4. Value proposition
The value proposition showcases services or products mentioned in your banner ads with extra value a customer can get if he is interested in your products. For e.g 50% off, the last date of sale, limited time offer, etc.
5. Brand Consistency
Your banner ads should have adhered to the brand you offer and must be directed to the page of your brand when a potential customer or visitor clicks on the link provided by you in the banner ads.
6. Use of Colours in Banner Ads
Selecting the right choice of colors is a crucial point when designing banner ads for your site. Each color represents a specific type of emotion. It's actually quite difficult to select the perfect color combination because it depends on your brand, target audience and type of ad.
For example, if you are creating banner ads for organic or natural products then you can use green color, red color is most suited for beauty products, etc. Similarly, you can use related color for your online product which suits the product best.
For example, younger people are attracted to light colors, while older people prefer dark colors.
7. Use of Call To Action Button
A call to action button is what you expecting visitors to click through. Generally, you should also focus on the design of a call to action button seriously as you focus on the banner ads.
It Reduces friction for the customers. This means you should make your customers feel free to look for your product or services online. Remove any uncertainty regarding your products not to be liked by customers. This increases the click-through rate of your ad. The rating of your ads much depends on click-through a call to action button.
8. Banner Ads with Surreal Visuals
Banner ads should aim at delivering main messages quickly and with complete understanding. Thus, using surreal visuals often prove to be effective for banner ads on your site. Such type of ads always succeeds in grabbing visitors' attention.
But, you should be careful so that the main message doesn't get lost and visitors get what your ad has to deliver. An important rule of thumb is – if you can show, do not tell, otherwise, simply use text.
9. Banner Ad size selection
In addition to the above, You should also keep in mind the size of your banner ad.
You can choose the preferred size for online advertisements to be displayed on your website. The standard digital banner ads come in different sizes (in pixels), which are given as follows:
Full Banner Ads of dimension 468×60
Half Banner Ads of dimension 234×60
Leader board Ads of dimension 728×90
Standard Rectangle Banner Ads of dimension 180×150
Medium Rectangle Banner Ads of dimension 300×250
Large Rectangle Banner Ads of dimension 336×280
Half-page Banner Ads of dimension 300×600
Conclusion
In the end, we can say that marketing an online product requires a lot of commitment from an individual. Digital marketing is also a part of the business so there is a possibility of a lot of competition. You should regularly get ideas of the current trend of banner ads for your online product. We can say that learn from everywhere but implement in somewhere means you should make banner ads of your product or service which is somehow unique and can address the requirement of the visitor and of yourself.