Promoting your brand, business, products or services through advertising plays a significant role in the present online market. So evaluate publishers for your advertising placements is a necessary factor to promote your business online.
Therefore, it becomes equally necessary for businesses to know how to get advertising placements and reach out to the most budget-friendly publishers to get your objectives completed effortlessly. You cannot always get the attention of the media when you want it. Nor can you control what the media says.
On the other hand, ads and free placements enable you to communicate your message. Like media, advertising can be designed to reach broad populations or to target specific audiences – anything you can do to hone in on your audience will maximize the use of your limited resources.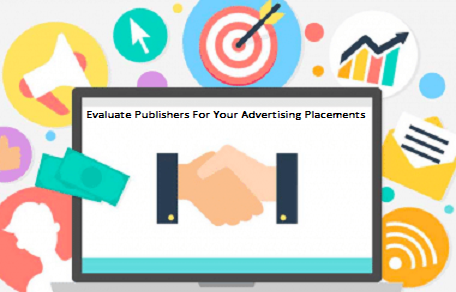 There are free placement ads for which you do not need to pay. These include ads that your partners place on their web sites and in their newsletters, e-mail announcement, regular reports and other materials they generate.
On the other hand, there are also advertising placement campaigns, where you have to pay a certain amount to your publishers for displaying your ads on their websites, blogs, articles, etc.
This is a huge opportunity for advertisers to seize working with content producers and influencers can help build awareness for your brand. They also, reach customers you may not have discovered before and helped drive more conversions.
Advertising On The Web
There are basically two methods of advertising, which are offline (traditional) and online (Internet), respectively.
Both of these methods let you market and promote your business brand, products, and services to consumers. However, advertising online gives you and your business greater approach and also lets you get to your desired objectives.
Although offline advertising has become quite traditional, it still does exist. Today, businesses largely rely on online advertising rather than sticking to traditional means. So, it proves more beneficial to advertise on the web.
Identifying The Right Publishers To Work
With customers constantly looking for more authentic and trustworthy ways to research products, advertisers who are looking to partner with content creators will find themselves in an extremely beneficial position to reaching their customers and eventually converting them.
The strategies on how advertisers can make the most of a product placement campaign with publishers, from identifying the right publishers to work with to keep the relationship strong even after the campaign is over.
Here, I will share with you a few key strategies on what to look for when evaluating publishers for your advertising placements.
1. Do a little research about the publisher
Before you get started, make sure that you do some research about the publishers you want to work with. This is very important and it is crucial to your business as well.
Find publishers who are willing to accept your advertisements. So that you can promote your products or services to consumers on a wider scale. Researching who you are working with will be critical to understanding what kind of success you could possibly yield.
If you know people who can help you get connected with publishers, be sure to approach them. Alternatively, you can use tools that are available for advertisers to leverage. So they can do some background research on potential publishers.
2. Visit websites of publishers to gain more information about them
You can find more information about the desired publisher by visiting their website. Most publishers provide details so that others can easily get in touch with them.
The details provided can be contact information, joining in an affiliation, availability of promoting business via ads, email marketing and much more. The more websites you visit of publishers, the more exposure you will get on their working and scope of business.
You can take help from other referrals to get you to the right publishers and not get into some of the less trusted ones. Also, feel free to contact the required publishers and send them a request for allowing placing your ads on their sites. So that you can promote your business and be able to reach to your prospect consumers easily.
Contact can be done via direct calling, text message, e-mail or via social media channels.
3. Check the popularity of the publisher with other advertisers
After having found your desired publisher, you will also want to know their engagement with other advertisers who are also promoting their business on the publisher's website.
Publishers often place ads of businesses alongside others on their pages. It is important to ensure that their content and overall brand image aligns with your business and would also be interesting to your visitors.
Check with your publisher as to what kind of content they run on their sites and what kind of content they promote. This is especially important if you are running native ads. You don't want your ads to be too disruptive to the user experience.
So, making sure your ad content is related to the content on the publisher's web page is a key factor here.
4. Know how publishers charge to place your ads
Given that advertising is paid, this is one of the many controlling elements of the marketing program.
Advertising is qualitatively different from advertising where the message is not identical to the sponsor's identity or vaguely defined and for individual sales. Which is in real-time and between the two-way communication between the message sponsor and the recipient, some face-to-face contact is involved.
Publishers will charge you upfront for having your ads promoted on their websites. If your publisher is charging an amount that is higher than what you are uncomfortable with, you can simply move on to another publisher and find out how much they will charge you for advertising placements.
Advertising is just one element in a promotional mix of the company. In this way, should be integrated with the overall marketing communications program. Advertising, however, is the most expensive of all the promotional elements and, therefore, should be managed with care and accountability.
5. Check the possibility of negotiation in price that suits your budget
Different publishers will, of course, offer different rates for displaying your product ads on their websites. There is no harm in negotiating prices with them.
Finding a publisher that fits your budget is a fundamental factor. But, whether your ad spends is in the hundreds or hundred-thousands. You also want to go with one that offers the best return on investment (ROI).
If you want to get the most for your contextual advertising cost. You should look at and consider when evaluating potential publishers.
Conclusion
There is no money-back guarantee on marketing campaigns. So by doing front research, you can have many funny conversations under the road. A publisher's goal should be to help you achieve your goals.
It probably goes without saying, but if you want to spend your budget efficiently. You should make sure you're targeting people who are within your geographical target and also match your customer profile.
So, if you have a defined target audience based on demographics, interest, or location information, your publisher's audience should line up with it.