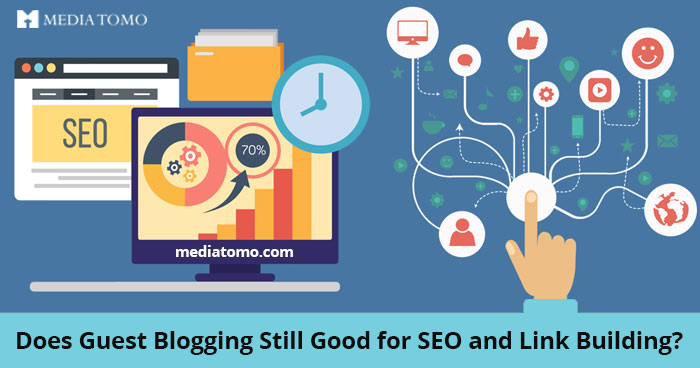 This is one of the most popular and prominent questions majorly asked by bloggers and agencies providing SEO service to clients about the worthiness of guest blogging. It's also looking dubious because of the statement given by a renowned veteran Matt Catts who had published a post on his official blog that guest blogging is moving in a rampant manner to its decay.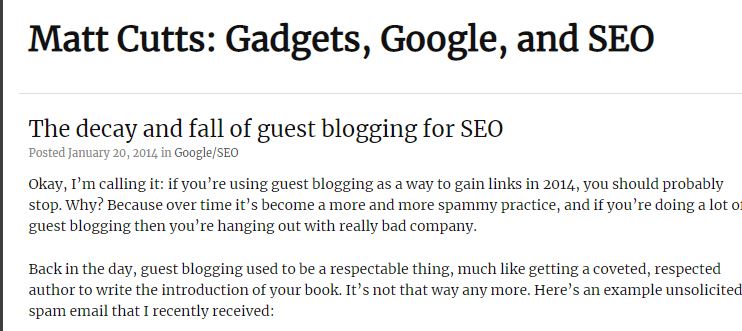 But then also his saying remains a saying and guest blogging is at its boom in creating engagements and generating quality backlinks.
In its simplest terms, guest blogging can be defined as the practice of publishing content on other websites for the intent of gaining quality backlinks.
As such, guest blogging has become a popular SEO friendly and link building technique for many years now. It still continues to be a choice for several individuals and businesses, despite having being put a restriction on its use by Google.
The reason why Google has given the warning as it is often used as a spammy means of gaining links. It also helps to grow your online audience in a wrong way which google don't support or promotes.
Here's how guest blogging plays a vital role in link building and SEO:
Benefits of guest blogging
Instant Exposure to Pinpointed Traffic
Guest blogging is the soul of content marketing strategy as it is helpful in bringing traffic from all over the world. With the help of guest blogging, you can pique the interest of the audience of other blogs to your website. This can only be done with the help of posting high-quality content that satisfies searcher's and visitor's intent.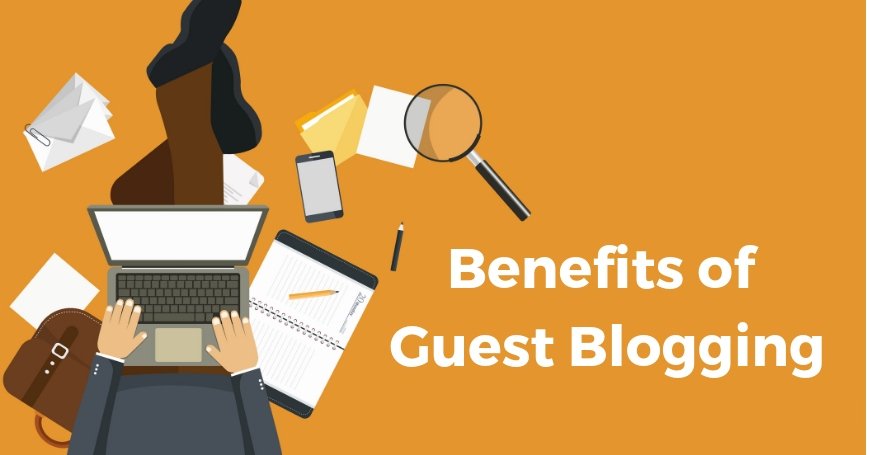 After writing great content for guest posting it will automatically increase the quality traffic on your website. As we already know that is the lifeblood of online business which also increases sales and more leads generation.
Improve your personal branding
Creating your own personal brand is a hard thing in this competitive era. But with the help of guest posting, you can create your own personal brand, as people will start knowing about you in your industry.
Many industry top-notch bloggers create communities of a particular niche and brainstorm new and potential topics to start work on it. And by publishing guest posts on other websites helps in improving your personal branding.
Grow your social media followings
If you are continuously posting guest blogs on different websites then it will apparently improve your social media followings. It can be done by simply adding social media profiles in the contributor's bio.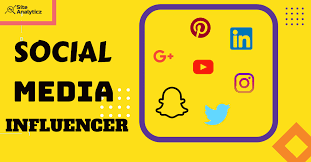 If your guest blogs are posted on authoritative websites this will help you in multiple ways i.e personal branding, increasing traffic, and social followers, etc. These types of posting create reputable in the eyes of new and old visitors and at last, they want to create a personal relationship for which they will follow you on social platforms.
With continuous guest posting, it proves you as an authority
Guest blogging is a great way of proving yourself as an authority but not be confused with sponsored posts. As more you, guest post more the no of people will know you and modern online marketing is all about authority. And after being an authority and readers will know you by your name this helps in becoming a powerful influencer or as an authority.
And with the help of this, you can make realize your target audience that you are the one who is recognized by a trustworthy brand.
Grow brand awareness with qualified leads
Guest posting is a great source of publishing content on other websites and proving yourself as an authority. And after becoming an authority you can grow your brand awareness by publishing content on your website or on multiple social media platforms.
And after becoming an influencer you can you can grow more qualified leads for your business. Leads can also be generated when you are posting your content on a website that is having high-quality traffic in your niche.
The bad and good side of the guest blogging
The Good side
Mainly guest blogging is the best way to build high-quality backlinks. This is only the involvement of the two website owners to share one's valuable content to others in reward of one do-follow link.
This practice is very much popular among webmasters and, Google too promotes for the same. And the benefit that received by the first owner is that he is getting a worthy content and the latter one is getting both traffic and valuable link.
The worst side
On the worst side, the enterprising marketers find guest posting as a technique to get high ranking that can be fully automated. But the thing is that guest blogging is done for sharing intellectual property between a group of audience.
These tricky marketers simply want a high ranking of their websites from that guest post backlinks. Many of them concentrate on building a high profile online for lead generation, cloaking or more.
Role of Guest Blogging in SEO and Link Building
Google's warning on guest blogging has not completely stopped it from being used today. There are people who rely on guest posting, guest blogging sites or guest blogging for SEO as a link building strategy.
It is a common practice in digital marketing. It can work very well as a tool for SEO because one can include a link back to one's website.
Thus, in turn, this can also have a positive influence on one's search engine rankings. More than half of the world's marketers agree that blog creation is their top inbound marketing priority.
So, their focus is mainly on high-quality guest blogging, which remains highly effective over low-quality guest blogging.
Some individuals, however, think that having a low domain rating (DR) in the guest blog post indicates bad links. But more importantly, if you are generating a backlink from a low DA site then there may be some possibility that these sites may become more valuable over time.
Impact of Domain Rating
Domain Rating is used in measuring the link popularity of a given website. But it does not really tell you if a site is spammy or if a link from the website could have an impact on you. 
Google uses the PageRank formula that works on a page-by-page basis. Where you can get a link from a strong page on a weak domain and vice versa. Pursuing links from high domain rating sites are generally advised because they tend to have more potential pages.
But some sites having low domain rating may grow in popularity and reach a higher DR. Which means your link may have the chance of becoming more valuable over time. Users may publish guest blogs even on sites with low DR, as long as they are legit.
In Google, links are just a primary ranking factor and in SEO, guest blogging offers a strong opportunity to secure a link back from another website, in addition to other marketing considerations.
Guest blogging builds a relationship with the blogger who hosts your posts, covers into their audience for additional exposure and supports you to establish authority among the targeted audience.
How To Find Guest Blogging Sites
There are tonnes of sites available on the Internet that offer guest blogging services to individuals. Here is a snippet of my blog post to give a solution for finding the best sites.
I too have written a full guide to find sites for guest blogging with a title-Powerful Ways To Find The best Sites for Guest Blogging
The two main ways to find sites for the purpose of guest blogging. These are:
Websites that connect publishers and bloggers
Search with social media (like Facebook, Twitter, etc.), google, mine resource lists, etc.
A very popular way to find guest blogging opportunities is to seek others who contribute their works consistently to industry-related websites.
Most people and companies often share their posts via social media profiles. Which can be easily reached to a large number of readers.
To find guest posting blogs that are interested in accepting guest posts. Here are some examples of useful search string combinations that you can try:
"guest author" "keyword"
"guest post" "keyword"
"keyword" inurl: contributors
"keyword" inurl: authors
intitle:" guest post" "keyword"
inurl:" keyword" "contributor"
Search strings can help you get the desired results quickly. For example, typing a common search string such as "blogging" "write for us" will display all results that offer guest posting containing the exact phrases (in quotes).
This process is both simple and complex, as there are only a handful of modifiers. But they can link in many different ways.
How to do a guest post
In the world of digital marketing, guest posting plays a very vital role in SEO and link building. There are two types of guest posting sites are available in the market: Free and Paid.
Free blog hosting is the presentation of a risk-free way to create an online presence. When you set up a paid hosting account, you should take more than a little cash to get up your site up and running.
Guest bloggers who want to post free should follow these steps:
Search for guest post sites
When you want to guest post, look for those blogs with a good reputation, who accept guest posts, and who publish items similar to your guest post idea.
Contact the editor
If the blog provides step-by-step guides for pitching guest posts, then follow them closely. When there is no specific process for blogging to pitch a guest post, use the contact form to ask if the editor accepts guest posts.
Submit your guest post for reviewing
Send your guest post content, following the format given by the editor, and submit it on time. If the editor asks you to make changes later, continue editing your post until it meets the needs of the blog.
Wait for approval
Editors get many pitches from guest bloggers, so you may have to wait a few hours/days. If they do not return any response after a few days, then send a follow-up check. If they still do not listen to anything then ask either to pitch a new idea or present the idea of your guest post somewhere else.
Publish your guest post
It is the final or last step of guest post publishing. After publishing the guest post, it is visible at that site. But always keep in mind that when you pitch a guest post, to think about what the editor might want to publish a few months from the current date. For example, never pitch a summer season related blog post at the time of winter season.
How Good is Guest Blogging for SEO and Link Building – Conclusion
Summing up here, it can be said that guest blogging is still better enough for both SEO and link building.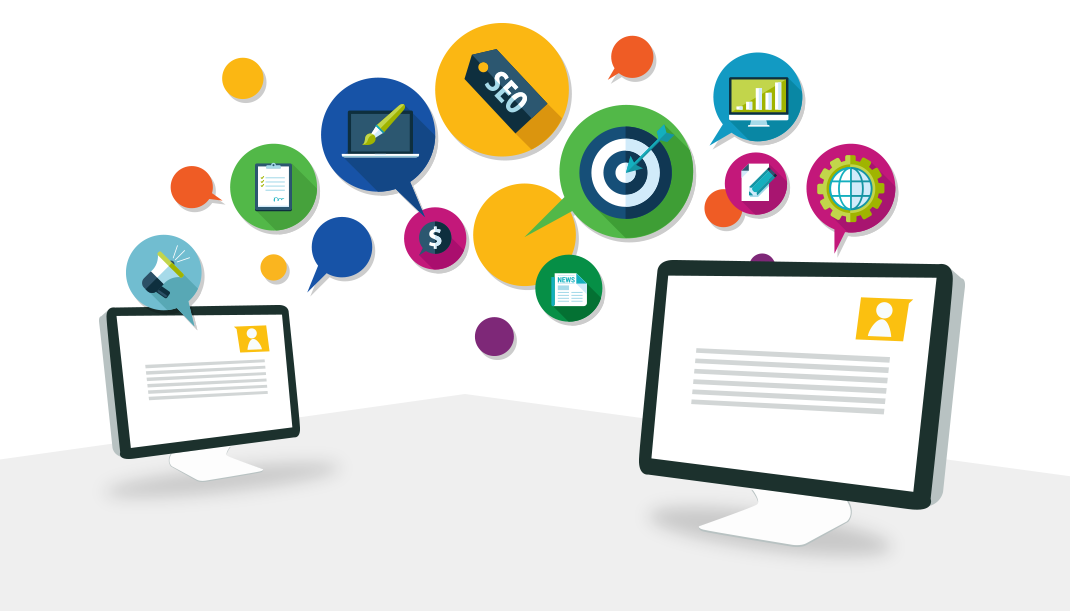 As long as the blogger is ready to spend posting and editing from sensible and outsources, guest blogging can be a great source of valuable content for blogger's viewers.
Guest blogging is a good source of link building for bloggers in SEO. But it must be done with caution as giving or getting a link from a bad source then it may lead to hampering your position.
An important part of editing any external contribution is reviewing links within the content. You should not include any links until it is considered as editorial. Guest blogging, without a doubt, is an important step for online marketing success.
Once you grasp its benefits, give it a shot and see if you can make it work for your business.