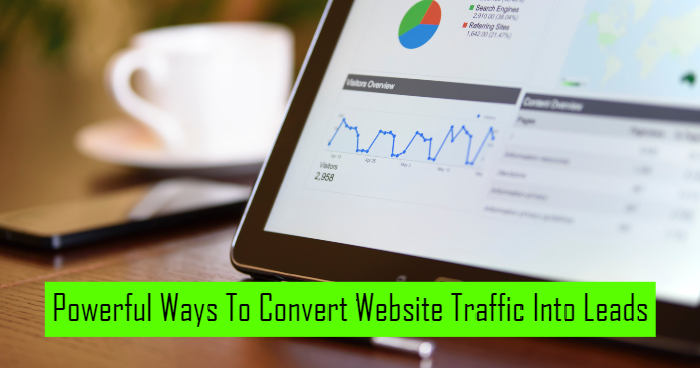 There is one goal that all businesses have in common – generate leads. Businesses that have their online presence will want to make more conversions. This can be achieved by taking strategic measures and will also require determination in order to fulfill one's objectives effectively. In this blog, we'll discuss some powerful ways to convert website traffic into leads.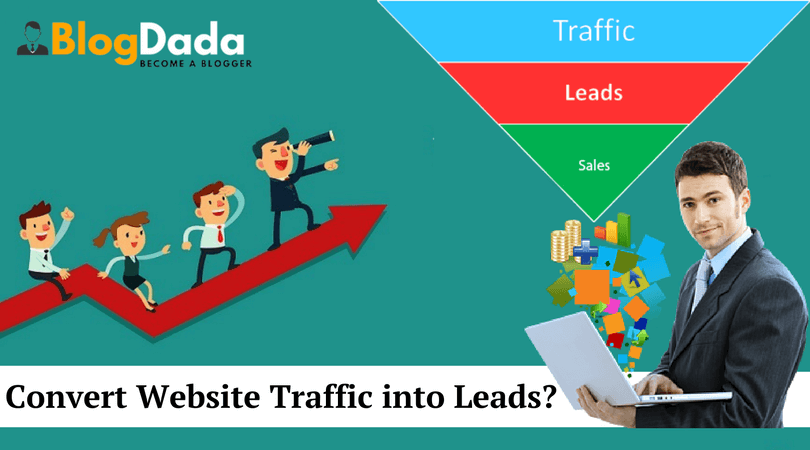 It is not surprising to know that thousands of websites are submitted to the search engines every day. Different clients have a different business module, which also differs from one another on the grounds of design and functionality.
Different webmasters are sticking on their websites to generate more traffic. They are implementing new and advanced techniques to convert their visitors to their customers.
Why it is important
When we submit a website to the internet the main focus is to gain more traffic. With more access to the internet, the number of online users also increases considerably. Therefore, it is now feasible to attract the interest of online users effectively as compared to offline users. You should also remember that simply displaying ads on your website is not enough. It accounts for only a quarter of the earnings by showing interest-based ads to online users.
It is true that website traffic plays a direct role in bringing conversion (or leads) to a business. With the wide approach of online advertising, converting web traffic into leads has helped businesses bring more revenue and further boost their growth. In this blog, you will learn some of the most effective ways to convert website traffic into leads.
Tips To Help You Convert Web Traffic Into Successful Leads
To cope with the constantly emerging competition and hassle that prevail in the digital market, we have laid down a few useful strategies which can help your business easily convert web traffic into profitable leads. The mechanisms used here can have a positive impact on achieving your business objectives.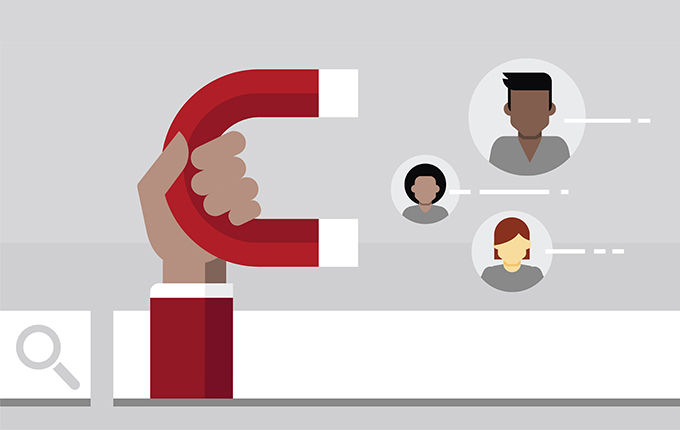 1. Landing Pages
Landing pages are one of the most active ways to convert a visitor into a lead. It is an opportunity to present your message to your specific audience. While the determination of many content pages on websites is to provide information, landing pages are planned for collecting a user's contact information. Combined with targeted market traffic can bring a change ratio of as high as 50-60 percent.
Different landing pages are most striking to different groups of people. And they will never trust on one landing page for all results. To measure the performance of different landing pages send traffic to it via a blog so you can understand which page is more performing. You can also plan a landing page on your own by using some plug-ins and themes that are accessible in the market, which makes the formation of landing pages very easy.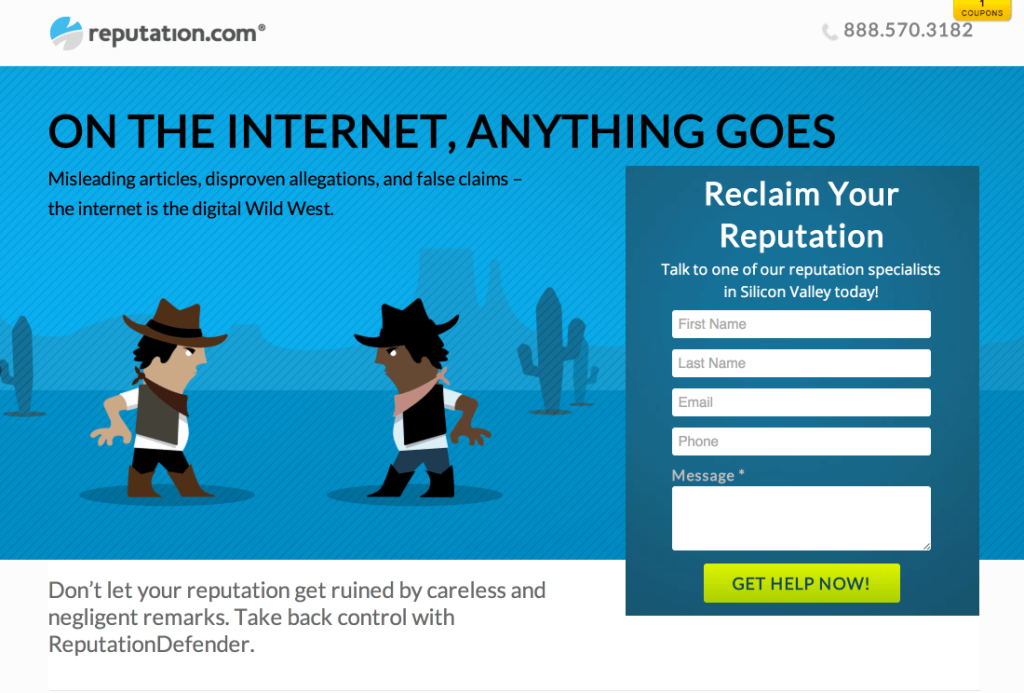 A well-known inbound marketing software companies recommend that a business must use more than 40-50 landing pages with different offers. And these landing pages must be designed to convince the visitors to signup your email list for starting a free trial or to buy a new product or service.
2. Use of mailing sequences for those who don't convert
Sending mail is an unavoidable part of online marketing, emails help marketers to get in touch with their visitors. Have you ever gone shopping for a car or for buying a two-wheeler? You probably have. And found that they are no fit for your budget and want to buy it afterward after having a glance at a few of them.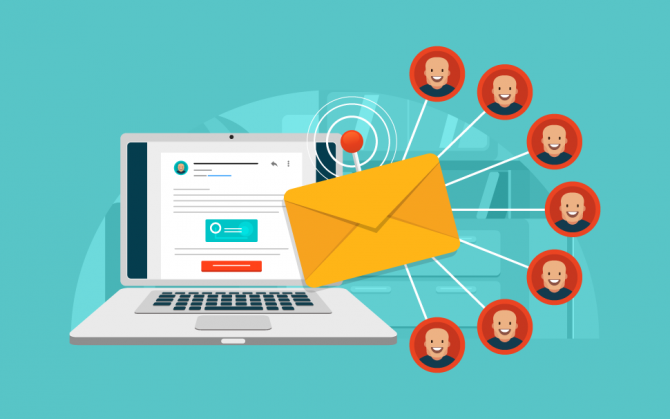 The salespersons are quite good at accessing your desire and start sending you mail to be in touch with you. And at last, he was successful in his goal by getting you to convert in a long-lasting customer.
Sending continuous E-mail to your unconverted visitors may help in converting those customers in a converted customer. As when you are sending E-mails describing the key features and benefits then it helps to get converted faster.
3. Use remarketing (Popular one)
Using remarketing is the most effective way to convert website traffic into leads. As in this technique, you need not spend a huge sum of money if you had run your paid ads.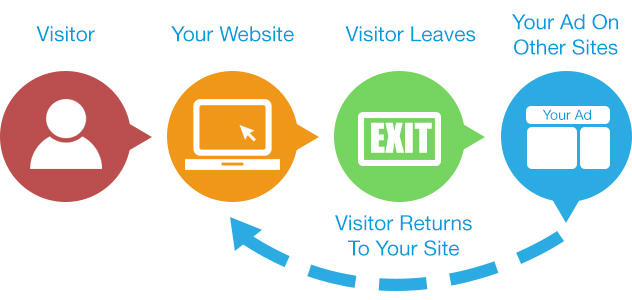 For instance, if someone is searching for earphones and clicks your website and found the earphone, and after that, he is unwilling to purchase it(the game starts after that). You can use remarketing to make that visitor your permanent customers. When you are using remarketing then wherever the visitor visits find your ad of remarketing.
According to software advice, there is a 70% increment in sales when the products are remarketed. And they are cheap in comparison to paid ads as if you are paying $2 on one click than in remarketing you are only paying $0.25 which is 8x less than the actual ad. And According to Wordstream– there is a positive correlation between impression and conversion.
4. Provide free subscription and trials
A notion of getting something free stimulates the decision. As we have seen that Netflix (A video streaming platform) is providing a free subscription for one month because of which they had increased a huge user base all over the world. We too had seen about Crazy eggs (an online analytic platform) providing a free subscription for a limited period.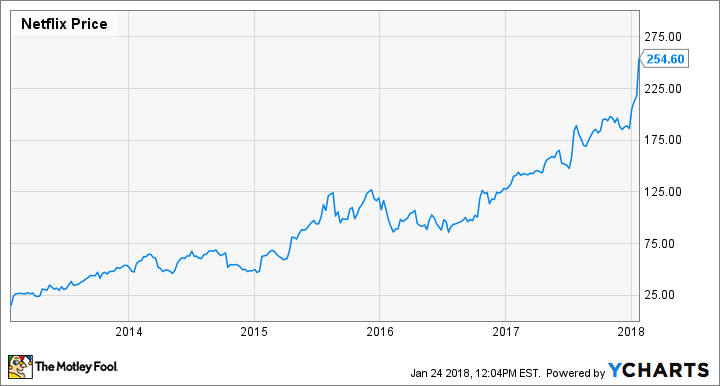 Many companies work on a free trial basis because of which customers don't feel any type of anxiety for their commitment. In this way, companies demonstrate their faith and give them an assurance that they can cancel as and when they feel unfit or unimpressed.
5. Use exit-intent popups
These are the best ways to retain the visitors on your website as in these types of popups appear only when your cursor head ups to the "X" on your browser.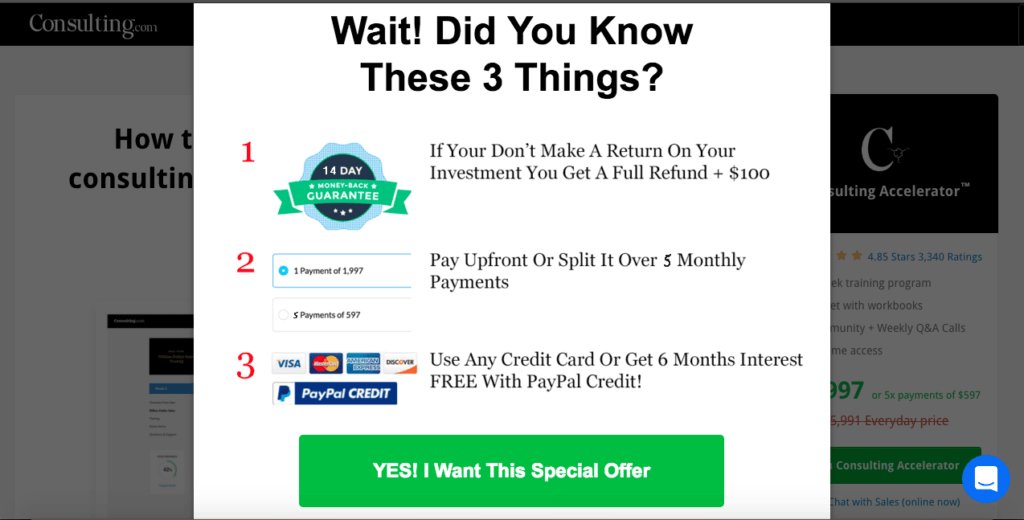 A well-known publisher of digital blogs and a search marketing company "WordStream" use this type of exit-popups to convert them in a long-lasting customer. Moreover, you can design your own exit popups using tools like Hello Bar.
But with all this, remember to give a reason to fill that exit-intent popup form. It will also help in email collection and E-mail marketing.
6. Banners/Notification Bars
When you visit a website, you will often see a notification bar at the top of the page. The notification bars refer to important notifications. When the users start browsing your web pages they observe the important notifications in the bar.
The website owners must design these notification bars so they always stick to the top of websites, no matter how much the user scrolls down. The notification bar also displays the warning messages for blocked pop-ups and missing plug-ins. The users often pay attention to the notification bars. In this process, Hello bar is the best one as it provides a handy facility to convert visitors into customers.
To convert website traffic into leads simply, attach an email form to the notification bar. This will allow the users to send you an email, without any hassle directly. And you can also link up all important landing pages in the notification bar. The notification bar offers you split testing and insights options. Thus, you can now track how many clicks you received and the performance of different call-to-link actions.
7. Unblock-able Pop-up Forms
This is one of the finest methods to convert website traffic into leads. About 2-10% of your everyday blog traffic can be converted into leads based on the achievement of your offer. The unblock-able pop-ups can greatly help you in converting the website traffic into leads.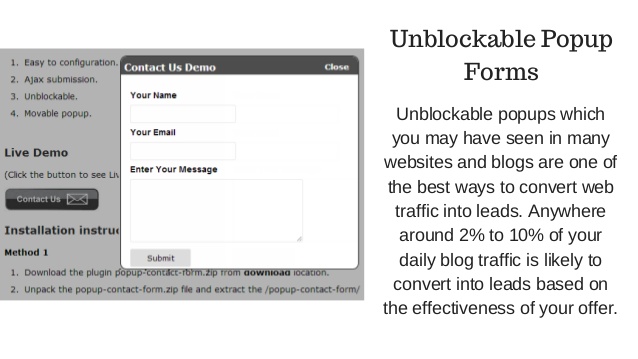 Designing an unblock-able pop-up form, you can manage to attract more and more leads to your funnel. Apart from ensuring good conversions, the pop-up plug-ins also offer special tracking features and split testing options.
So, if you want to convert your website traffic to leads, then don't forget to add unblock-able pop-up forms to your website.
8. Opt-in Forms in Sidebars and Below Posts
Designing an opt-in form in the sidebars or below the post can be very useful. It has been observed that around 40% of user clicks on the opt-in forms after visiting the website. Again, if you have no call-to-action (CTA) tasks in your blogs, then opt-in forms will work the best.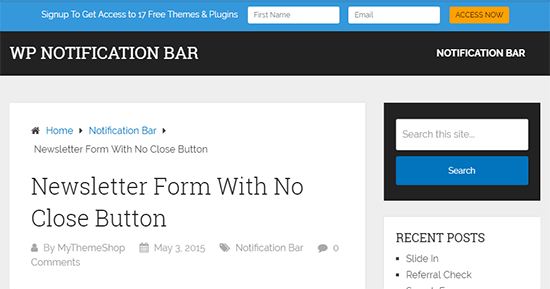 So, whether your content marketing strategy is not effective or you don't have any call-to-action option, then you can manage the lead conversion through opt-in forms. It is recommended to design the sidebars with attractive and sizzling opt-in forms so that the users can easily have their attention over there.
After finishing reading blog posts, visitors typically don't know what to do next and If your website doesn't have anything to arrest their care they just leave.
9. Welcome Redirect Offers
You can easily convert the website traffic into leads by implementing a welcome redirect offer to the visitors. You can request users to fill up an opt-in form to avail of some attractive gifts like weekly newsletters and free e-books. But only valid for first-time guests not for returning visitors.
The most attractive fact about this is you can use this offer anytime you want. whenever you feel like, no more leads are required, for now; then you can turn it off. At present, numbers of free plug-ins are available, so you can add any of that plug-ins to your website.
It is a very good choice for capturing a lot of leads in a small period of time. And touch the user experience on various levels. This offers can be used for a short period of time for improvement in leads.
10. Have a track of users mouse movement
Tracking the user's mouse movement is the most advanced strategy to convert your visitors into permanent customers. Crazy egg mouse recorder is the best for this, In which you can find where your customers are sticking and clicking.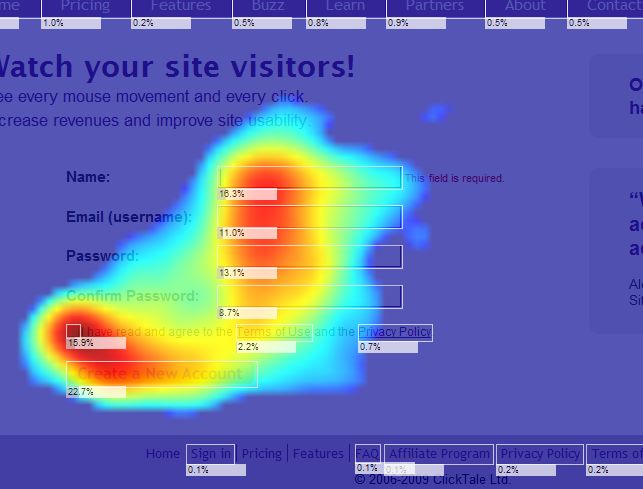 After having access to what your customers love you can make changes accordingly simply by extrapolating the user behavior. By this, you can place CTA on the very glued place of your webpage. Which helps in filling CTA and opt-in forms.
11. Opt-in Forms Inside Videos
On-site video is also an important visual tool use to keep clients on your website. Opt-in forms inside videos have become popular with digital marketers. If you are using a video marketing strategy for your website to drive more traffic, then this lead conversion procedure is highly recommended. You can simply add an opt-in form inside the video so that when the visitor will watch the video face the opt-in forms. In case, your visitors are interested in watching the video then they definitely click on the opt-in form.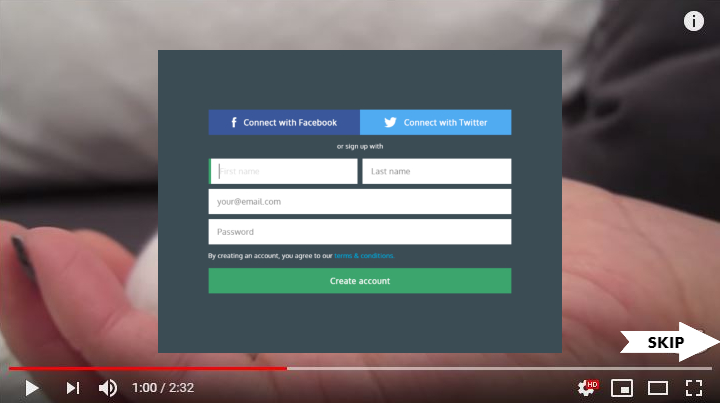 This lead conversion method is compatible with most of the video-sharing platforms like YouTube, so you do not need to have a separate video player. Design the opt-in form in an attractive manner so users can manage the necessary action with proper interest. You don't need to ask any help, as you can easily manage the opt-in forms on your own. It depends on you, whether you want the forms at the starting of the video or at the end. You can also make opt-in mandatory just disable the skip this step option.
12. Opt-in Forms in Headers
You can also include an opt-in form in the header to convert website traffic into leads. Try opt-in form in the header area If the design of your page offers a good space of header. While browsing a webpage the header is the first area that users observe. Thus designing an opt-in form in the header area can be more useful. All you need to do is just design an attractive opt-in form and can ensure good lead conversions.
You can also grow a custom theme if you have the resources and also divided test it to improve its chances. It is feasible to generate a customized theme with an opt-in form. You can also get all tracking reports by split testing reports plug-ins. So, design a good opt-in form and convert your website traffics into feasible leads.
13. About Us Page
The 'About Us' page on your website can actually be very useful. This page encourages visitors to trust your services. If you have an 'about us' page, with some great back story about yourself, sharing the motive of starting your business with a great mission statement, it will not only bring interest into the visitors but also inspire them.
You can easily include a signup page on your 'About Us' page. When people become more engaged in your story, you will have a chance to get the leads. Moreover, you can also offer your stuff from your 'About Us' page.
It is also recommended to display the contact number on the top of your website because it creates a good expression on the mind of users. A website with a contact number displayed is considered a trustworthy and reliable website. This will produce higher chances for the users to give you a direct call by seeing the contact number. In case you want more information associated with lead conversions, then you can contact the experts.
Conclusion
With the above-given approach you to have a better understanding of the important ways to convert website traffic into leads to boost your business goals. One still has a chance of converting their visitors into customers. Your main goad is attracting your visitors by providing them valuable content.
These are the best ways to convert website traffic into leads. Many renowned marketers use these techniques to convert their website traffic into leads.
And get consent to email them in the most realistic way. Give something valuable in the email to your visitors so they can trust you and then you can present what you have to sell a non-obvious manner. You must generate leads. Try to include a lead capture form in a manner so it becomes easier for the visitors to make contact. So you can easily shoot mails whenever you release new products or services.