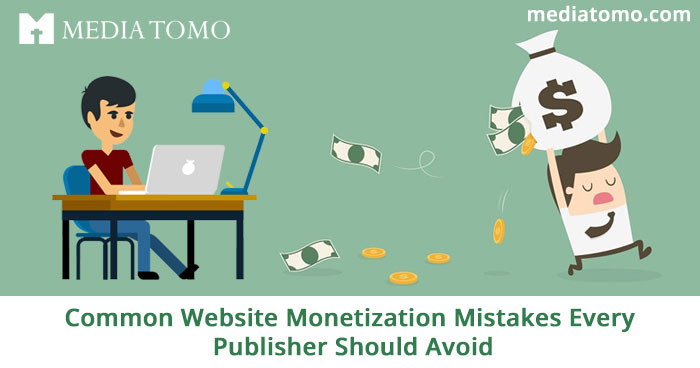 Earning online passive income is a dream of all especially who are anyhow related to online business and internet marketing. Warren Buffet once told that if you don't find a way to make money while you sleep, you will work until you die.

So what is passive online income? Active money is the income you earned while working for that service. But there is also some way via which you can make money while you sleep by doing work that fits your passion, experience, or skill-set.

If you have a website, you want that your site earns 24*7 even when you sleep. You can achieve this goal by using website monetisation.

Earlier Google display ads were the primary source, but now several other ways of website monetisation have become popular. Some of them are:
Affiliate Marketing
Create a Lead Generation Website
Create an Online Store with Drop Shipping
Create an Online Course
Create YouTube Videos
To help you get the best of your website, here are some common mistake which you should avoid while monetising your sites.
Don't understand your target audience
The biggest mistake most of the new bloggers, website owners make is that they don't target their audience. Also, they don't choose a specific niche and want to focus all. This can ruin your site performance. You should first select a particular range of customer and do audience segmentation.
Use your analytics to discover the following points:
Find which device they are using.
Their geographic location
Their interest, age group and gender.
Which type of content is getting more popular?
All these information can help you better understand your audience. Adopt your monetisation plan to best suit your site and customers.
Low-quality thin content
Low-quality thin content has not only least impact on the reader, but it can also ruin your brand, image and trust in front of both major search engines as well as your target readers.

Bad content drives away customers from your site and may lead to failure of your marketing campaign and monetization process.

This applies to all kind of website – blog, e-commerce, business or product/service oriented site.
Lots of ads ruing your site usability
User experience is the primary metric for a website success in each field. Whether in the domain of SEO, affiliate marketing or any other website monetisation channel.

The ad is an integral part of any website monetisation plan, but you should always remark how many ads you want to display in your site. If you are displaying too many ads, it can irritate them and can ruin your site performance.

Overusing the same kind of ads to same people can also annoy them. They can start using adblockers which result in losing a customer.
Limiting yourself to display ads
At the start of this blog, we mention different ways of website monetization. You should try them all and see which is working best for you despite of sticking to only Google ads or any similar thing.
Ads that don't stand out
If you are displaying any ads on your site make sure that everything is catchy, interesting and relevant for the viewer. As per a data on an average person see more than 4000 ads per day. This is a huge number and you should make your ads looks different and stand out.
Not using your customer data
Researching your customer data and using it to improve your site and marketing campaign can lead to higher ROI, sales and profit. Check what your customers are liking and repeat the process to gain more.
Summary
Those days have passed when only display ads used to be the king of monetising your site. But now there are several another platform which gives more freedom and options to earn more. While going for these platforms, you should not make the mistakes mentioned in this blog.