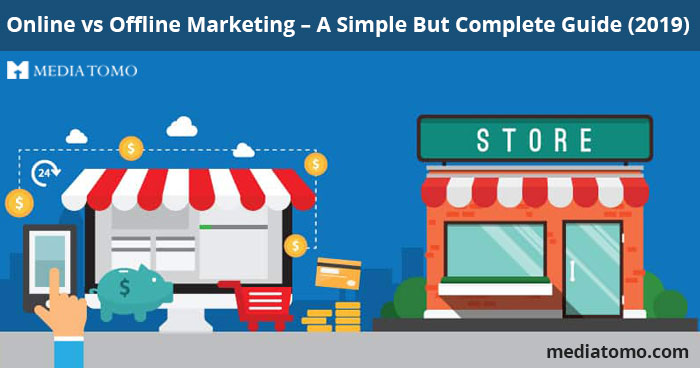 In the world of business, the goals are obvious, generate as much revenue as possible and expand your business as a global leader in a market.
Your business needs to attract customers, as well as build a loyal fan and follower base.
So online and offline marketing are two promotional strategies by which we can attract customers. Both online and offline marketing has a role to play in marketing your business. But the level of activity assigned to each depends on your budget and where your customers are.
Many companies work on both marketing strategies to create brand awareness and reach till audiences. Many website designing and digital marketing company follow with online marketing techniques to get high traffic for the business.
This page helps you to describe all about the following:
Definition
Online Marketing:
Online marketing is a set of tools and techniques used for promoting goods and services through the internet.
This is a marketing strategy that utilizes the internet to deliver promotions, advertisements, and solicit the attention of the target audience. The marketing process includes utilizing web content, email campaigns, video advertising, images, and even virtual and augmented reality in to drive direct sales to e-commerce or generate sales leads.
Online marketing is also known as internet marketing, web marketing, and search engine marketing(SEM).
Offline Marketing:
The word offline marketing contains the meaning of itself. It includes other methods of marketing apart from internet marketing. It is a traditional way of marketing. Traditional marketing is a type of marketing that is hard to ignore and includes the traditional ads we encounter on a daily basis.
The common and most tried offline marketing methods are the newspaper, magazines, hoardings, exhibition shows, radio, TV, and so on.
This form of marketing helps in increasing brand popularity, product sales, revenue generation, profit maximization and covering the gap between producers and consumers.
Medium
It is not a complete list, it gives you the idea about mediums of both kind of marketing:
| | |
| --- | --- |
| Online Marketing | Offline Marketing |
| Social Media | Face to Face Marketing |
| E-Mail | Direct Mail |
| Online Advertisement | Newspapers |
| Contents Marketing | Posters |
| SEO | Radio |
| E-Commerce | Exhibition shows |
| Mobile Marketing | Sponsorships |
Online Marketing
Social Media:- It is a powerful way to for all sizes businesses to reach prospects and customers. Facebook, youtube, twitter, and so on are social media platforms with unique user base and environment.
E-Mail:- E-mail marketing is a direct and effective marketing strategy for sending e-mails to customers.
Online Advertisement:- It is a form of marketing which uses the internet to deliver their promotion advertisement message to the customers.
Content Marketing:- This is a way of marketing that focused on creating and distribution of valuable, relevant, and consistent information for attracting the customers.
SEO:- Search Engine Optimization (SEO) is a collection of tools that help your website rank higher in search engine results.
E-Commerce:- This is a platform of online marketing which uses the digital channels to promote a product and grow their business.
Mobile Marketing:- It is an effective market strategy that aimed to reach target customers through ads that appear on mobile smartphones, tablets, and other mobile devices.
Offline Marketing
Face to Face Marketing:- When you sit down in front of a customer and group of customer promote your product or business to them.
Direct Mail:- This is a direct way of marketing where advertising material is directly sent to the customer's mail.
Newspapers:- Newspaper has the ability to reach a large number of people on a regular basis. So it is used to promote their product and brand.
Posters:- This is a simple yet effective way of attracting people because people love visual content.
Radio:- It is a consistent form of advertising and marketing information to listeners across around the world.
Exhibition Shows:- It is a way of promoting and selling your product in fairs.
Sponsorships:- This is a form of advertisement where a company provides support for events as money and other resources in order to obtain positive publicity.
Differences: Online and Offline Marketing
The most common differences between online marketing and offline marketing are as follows:-
| | | |
| --- | --- | --- |
| | Online Marketing | Offline Marketing |
| 1. | Online marketing is a logical form of marketing. | Offline marketing is a physical form of marketing. |
| 2. | It is a global way of marketing. | It covers a limited area. |
| 3. | Online marketing can track if the ad is reached to users and how many users? | There is no way to track if the users heard and show their advertisements. |
| 4. | Fast process and get the result very soon. | Slow process and takes time to get the result. |
| 5. | Customization is possible whenever required, change of content, time, location, etc. | It's not easy and takes time to make any change. |
| 6. | Advertisements are shown to the right person. | They are shown to all the people no matter they are relevant or not. |
| 7. | Less costly than offline marketing. | It is costly as media, space, human resources, etc. |
| 8. | Available 24*7. | Specific Time. |
Advantages and Disadvantages
Advantages: Online Marketing
Following are some advantages of online marketing:-
Global Marketing:- The first benefit of online marketing is the capacity to highlight your brand beyond your local area and reach out to your target audience.
Convenience and Quick Service:- Online marketing provides good facilities and quick services.
Cost and Time effective:- Online marketing has an unlimited reach and can be less expensive and time consumptive.
Real-Time Tracking:- The performance of online marketing can easily be tracked.
24*7 Marketing:- It means that your marketing campaigns run for 24 hours a day and 7 days a week.
Disadvantages: Online Marketing
Internet marketing has its own disadvantages. Some are:
Updating Technology:- Nowadays technology changes day to day. So according to new technology, we can also update our marketing strategies.
High Competition:- Due to globalization high competition occurs.
Transparency of price:- It is a major factor to increase the price competition in the market.
Too many Options:- With so many options, it is difficult to narrow down the choices to the websites that will attract the most potential customers and sales.
Privacy and Security issues:- Leaking of data and information is a big issue of privacy.
Advantages: Offline Marketing
Following are some advantages of offline marketing:-
Alternatives are available:- There are many different options are available to reach customers offline eg. through the newspaper, TV, banner, and so on.
Builds Relationships with Customer:- It is the unique opportunity to get to know your customers and builds relationships.
Tangible and Physical:- Customer has an opportunity to gain real experience of your product.
Make an Effective Impact in a Crowded Space:- It motivates customers to get noticed and encouraged.
Face to Face Interaction:- It gives you the opportunity to meet your customers face to face and interact.
Disadvantages: Offline Marketing
Following are some disadvantages of offline marketing:-
Timing:- Time constraint is a common offline marketing disadvantage.
Cost:- It is more expensive because it contains physical form like paper, human resources, etc.
Constraints Public Reach:- Offline marketing is limited in terms of the circulation of newspapers or magazines, television, radio stations, etc.
Less Information:- The message you can deliver with traditional advertising is much more limited compared to newer forms of communications.
Limited Accessibility:- Offline is a traditional method of marketing so quick accessibility is limited.
Conclusion
If you ensure effective and efficient work and targeted goals than you need to work with both marketing techniques i.e. online and offline marketing. It will respond as a higher ratio of profit then for business. Whether online marketing or offline marketing is better for a business is up to that specific business.
If the business is in an urban area where the people are aware of social media and have knowledge about internet marketing than prefer online marketing otherwise offline marketing. Preference and selection of marketing strategies depend upon the business location and surrounding environments.
But when comparing online marketing channels to any channel of offline marketing than we conclude that online marketing is better than traditional marketing.
Online marketing is overall cheaper and more cost-effective to produce, maintain and implement. It also more targeted, easier to measure and returns more on investment than traditional marketing. 

Nowadays the world is a digital one so online marketing is just the way of the future. Contact us today for better growth of your organization through digital marketing. We provide you with an effective and efficient way of the digital advertising network, free consultations and quit evaluation of your site.