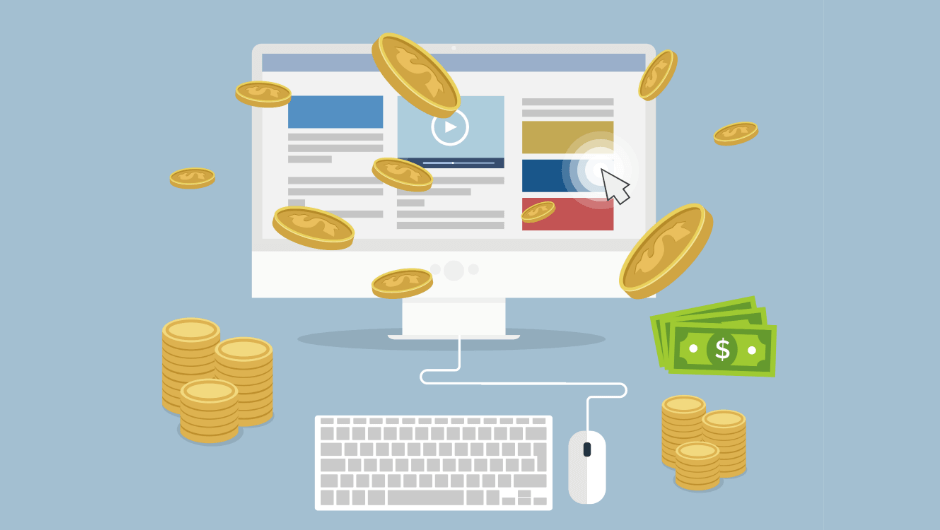 Nowadays, monetizing the Website is a very popular trend.
The Business of Monetizing a Website is growing and looks for the potential persons who can handle online pressure to gain money.
There are plenty of methods to monetize your website and with demand new ways are regularly emerging for this purpose.
In this article, we will show you some methods on how to monetize your website.
Ways To Get Earned From Your Website
1. Make money through ad networks.
If you have high-quality and optimized content in your blog then Google will praise you and will determine which kind of target ads to serve your website.
One such ad is Google Ad-sense. The topic of your article should match the targeted ads provided by ad networks such as Google Ad-sense.
For this, you need to subscribe to the Google Ad-sense Account. You can earn money if a potential visitor clicks these ads on your website.
Note that a visitor only attracts to your target ad if he found that your blog content and topic is relevant to the Ad-sense.
Some other examples of Ad networks are Ad thrive, MediaVine.
2. Promote products via Affiliate Marketing.
You can earn money by generating a sale of the product on another website.
This method is called affiliate marketing. In this system, you bring a potential visitor from your blog to the product blog.
In this method, you get paid in commission when each potential visitor buys the product from the product site.
For this, you need to subscribe to an affiliate marketing program.
Some famous websites that support affiliate marketing are:
Amazon.com
Nerdwallet.com
Thisiswhyimbroke.com
Outdoorgearlab.com
3. Sell space for ads to companies
Another way to get paid on your website is by contacting companies directly and offering them space for placing ads on your website.
This option is useful if your website contains banners. You can place a message in that space for companies to see and promote their ads to visitors on your site.
Using this method, you can earn a certain amount for each per one thousand impressions, so your earning from ads will vary depending on the number of visitors who view your website.
4. Donations and Contributions
Another way to monetize your website is to ask donations and contributions from potential visitors.
For this purpose, you should make people perceive that you are not earning a high amount. You should also speak about the cause of why you can't earn high so that readers convinced that it is worth donating.
Your Website should be in the good-looking design to earn donations and contributions. You and your blog also need to be well versed with social media as this source of income is much more depends on social elements like people's behavior, trends, etc.

Some of the famous Websites which are monetized by donations are:
Acumen.org
Care.org
Wikipedia.com
Brainpickings.org
5. Set Portfolio to get projects
If you have an expertise in a certain field or subject then you can set a portfolio on your website. One such example is to add the HIRE ME section within your blog.
The HIRE ME section not only confirms that you are specialized in a certain subject but also gets your job offers.
You can earn money if people want you as a potential partner for the job or work they offer to you. You need to represent yourself professionally to acquire a portfolio like this.
6. Create an E-Commerce store
One of the most frequently used methods to monetize your website is to place an online store on your blog. An online shop is a place where users can come frequently and order products they like.
The concept of putting an online store is not new to the potential blog owners. The success of this method much depends on how you can differentiate your e-shop with the other counterparts.   
Two famous Websites which are monetized by E-Commerce are:
7. Sell e-Books
Another method to monetize your website is to Sell e-Books from your blog. This method is of low cost and low risk.
You can create an e-Book with the help of past blog articles, gather them in a decent structure and make an e-Book out of this.
You can also convert your own thoughts to the form of an e-Book. Now you can publish this book publicly.
You can do this online on your website. You will get paid if a potential visitor download links to your e-Book.
Now charge a certain amount of money of your link to the e-Book you publish and multiply this amount to the number of potential customers who download this link. This result will be your income.
8. Offer Consulting Services
You can offer consulting services to the companies in your blog in exchange for the money. For this, you have to create a short representation of yourself that can build trust as a consultant to the companies.
You will definitely need self-presentation skills as well as marketing, SEO, social media, skills, etc; for this purpose. You can put these skills into your blog as a consulting service.
You can charge a certain amount of money to different companies for your consulting services.
Since companies or other peoples are constantly looking for effective consulting regarding their business goals, it has strongly become a proven method to get money.
Famous websites who get monetized by offering Consulting Services are:
9. Membership Websites
The Membership websites are those blogs that contain content which is  constantly provided to the potential visitors in exchange for a certain period subscription amount, such as weekly or monthly, etc;
These contents need to be very relevant to the visitors which provides a unique solution to them regarding their daily lifestyle and needs.
For this, you need social skills, marketing, understanding of society or community, etc.
You can start a membership website and charge a certain fee for the content you provide. Your income will depend on the number of potential visitors who subscribes your membership content monthly, weekly or daily basis.  
Some blogs monetized with Membership contents are:
Internationalliving.com
Fabfitfun.com
10. Dropshipping e-Commerce Method
It is a kind of method where you can directly sell the product in exchange for the commission you earned. You don't need to store products in your repository.
All you need is to strike a deal with the supplier of your product. You can place the product on your blog digitally so that a customer can place the order of the product from your website.
Once a customer places an order, you can forward this order to the supplier of the product.
For ex;  A customer places an order of the product from your blog and pays you retail price such as Rs 200. Now you forward this order to the supplier of the product and you pay a wholesale price of Rs 150 to the supplier.  
Therefore, the margin between the retail and wholesale price ( Rs 50 ) is your profit or income.
11. Crowdfunding
Another method of earning through your website is to apply for crowdfunding. Crowdfunding is the process of collecting money from the large crowd for financing an organization or company.
This method is suitable if you want to finance a company that is struggling to make its base. It can be also a noble cause such as charity work.
You can accept funds from the public by applying to crowdfunding sites in exchange for the percentage of the amount you gather from the public. It is based on your campaign for which you want to raise money.
If your campaign is so strong that makes people realize the cause and paying money, your profit will also increase.
For Crowdfunding, you need to make rewards to the public such as easy access to the product which is supported, some kind of public recognition or include a promotional item.
Also, you need to know the regulations regarding crowdfunding as it is a community management program.
12. Banner advertising
Another effective way to monetize your website is to use banner ads in your blog. Actually, banner ads are the visual components of your website. It is a digital way of promoting products or services from your website.
In this method, you need to make a banner ad so much attractive so that visitors will look for this.
You can take the help of some graphic designers, experts specialized in the banner advertising.
Once your banner ad is completed, you can publish it on your website. Your earning will depends on the click per review by the visitors on the banner ads. This means the more visitors view the ads, the more you earned.
13. Accept Sponsored posts and articles
Sponsored posts are usually posts or articles commissioned by the third party. Accepting sponsored posts and articles also build in the chance of earning through an ad posting.
These sponsored posts are what the ad agencies look to advertise on the websites with a lot of enthusiasm. In these posts, you usually write your point of view or experience regarding the product advertised on your blog.
These sponsored posts are what the ad agencies look to advertise on the websites with a lot of enthusiasm. In these posts, you usually write your point of view or experience regarding the product advertised on your blog.
One such example is a sponsored review. This platform allows advertisers and bloggers to build backlinks and earn money. You can allow advertisers to write a paid post on your website.
You can set your own price per piece for these sponsored reviews. But it depends on your website ranking and incoming traffic as these reviews are totally based on these factors.
14. Generate Leads
Another method to make money from your website is to generate leads. Lead generation means you can expand your chance of getting earned.
It is the process of joining two parties from the third party. In this method, you are the third party whereas the other two are the beneficial parties from your leads.
For eg; if you own a website of teaching yoga skills and you have the email address and contact number of the person who visits your blog. Then you can forward this person's details to the different online schools who give practice to yoga in exchange for some money. No matter a person is willing to subscribe to these online programs.
In this process, you have just done your part of being a matchmaker to two parties, who eventually gained from this. If they gain, you will also gain.
15. Flip your Website
Last but not least, you can flip your blog to earn even more. This is also a very effective way to earn good money. You wonder, why I am selling my own website which provides me income?
Having a website is a good medium of getting you earned, as most of the individual knows. But most of the people are not very interested to build a website right from the beginning.
Instead, they would prefer to buy an already established website, adding more relevant content, and sell it.
If you make money online from your website, you can earn by selling it as well. Generally, you can sell your blog for a much higher monthly income which can be 10 to 25 times higher than the income from unsold websites.
Some of the platforms where you can sell your website:
Flippa.com
Empireflippers.com
Feinternational.com
Conclusion
In the end, we can say that making money from the website is not very difficult. Most of all it is a business and in business, both parties (provider and receiver) want to benefit. 
Like we all know, there are also pros and cons associated with every method of monetizing your blog.
Owning a website needs a commitment from you. You need to specialize in digital marketing to achieve your goal of getting earned from the website.
First of all, you need to learn how your contribution in the form of web content can benefit the people?
You have to carefully choose the right way, by consulting or you can take a trial run which best suits your commitment. If you can work according to your deed, you are on your way.