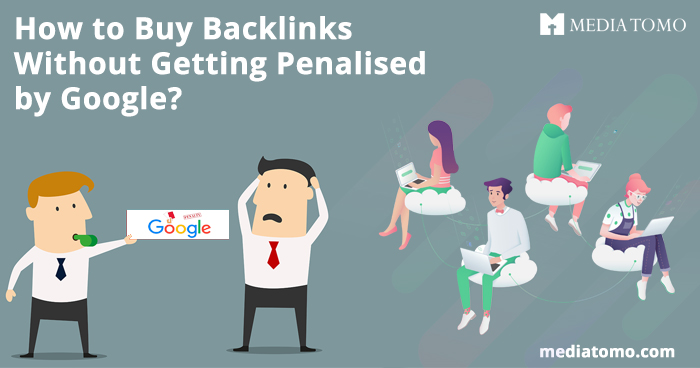 Website owners will always want to have a greater online presence by all means. To accomplish this, one of the most commonly adopted methods is through the use of what is called "backlinks". A backlink is something like a promotional link of your website which is brought by many website owners in exchange for a reasonable price.
The concept is like an election party that is paying voters to vote for them. A backlink is a term that, in simple words, means an incoming link to a website. When a web page links to another relevant page on your or a different site, then that linking is called a backlink. Digital marketing is also not quite safe from this malicious practice.
The main purpose of a backlink is to improve a website's ranking on various search engines. Since the process involved in building backlinks is usually time-consuming, thus, many website owners prefer hiring webmasters to get the job done effectively.
How to Buy Backlinks for your Website safely?
Today, there are lots of options available for the website owner to buy backlinks. As you know buying a backlink is a malicious practice and will violate the search engines rules and regulations. If you are a website owner and want to buy backlinks for the promotion of your website just simply submit your blog or website to the person or company at a reasonable fee.
The following are some of the members, parties, company or individual in person from which you can buy backlinks for your website.
Authority Directories
Authority Directories are a wholly acceptable solution for your backlinks needs. All just you have to do is to submit a blog or your website and give a stipulated amount of fees to the party members of the Authority Directories. These directories generally charge a review fee for the backlink they provide. They are also called the paid link directories.

You can search these paid directories from the internet and choose the right directory by negotiating the price for a backlink. Since these Directories are providing backlinks, with some authority of getting free from ripping off by search engines, you can trust them.
Fellow Bloggers
The easiest way to buy backlinks for your website is to buy them from your fellow bloggers. They openly give you desired backlinks for your websites, But, Yes, they would demand some cash from you. All you have to undertake this as a part of the business.
When you demand backlinks from your fellow bloggers, your deal can be privately done by you and your fellow blogger, and you can secretly get a backlink in exchange of some cash demanded by the fellow blogger. You have to trust your fellow blogger for the backlink he/she provides to avoid penalties from search engines.
All you need is to submit your blog or website to your fellow blogger and he/she will provide you with a backlink.
High Authority Domain Websites
These websites have become very popular to buy backlinks for monthly payments. But before you opt for this, don't hesitate to double-check the right source you are addressing because there too many websites that are either hacked or faced down.
How to buy backlinks without Being Penalised?
Buying backlinks for your site is usually not encouraged as it is considered an unfair practice in search engine optimization (SEO). As such, buying backlinks can lead you to incur a penalty from Google's search engine services policy.
While buying backlinks can get you penalized by major search engines, you have to also understand that if the process is done properly, it can have a lot of advantages in terms of your website's search engine ranking.
Buying backlinks is not the guarantee for your website to gain traffic, but it can work for your site to gain momentum for an uncertain period of time.
Since building backlinks is going to take up a lot of your time and effort, you may have to think about hiring a webmaster to implement the task for you.
Methods to avoid being penalized:
Always seek a recommendation from professionals
This can't be stressed enough. If you're going to work with anyone in life, always make sure that you get some sort of recommendation. If you're having a hard time finding a reputable company, consider reaching out to a few reputed SEO blogs that you may read because most of the time, these website owners will have a few companies that they recommend.
Get thorough insight into the product
You have to keep in mind that it is not necessary if a company claims its reputation to be safe and secure, then you can deal with the company. You have to be very knowledgeable and be aware of the product you are buying. Most companies are specialized in link building in a different space.
For example, one company focus on guest posting, while another may help build an infographic that goes viral. Here, you're going to want to steer clear of any company that boasts cheap prices and a product that doesn't make sense. Although you may be able to see results with these shady services, you have to understand that you're going to put your website at risk.
Look for quality
Like knowing the product, you're going to want to make sure that the company produces a solid product. Because these links are going to reflect your brand, you don't want the public to land on spun content that makes no sense. As you learn the products, make sure that you look into products of the past. For example, if you opt to use a guest posting service, what kind of article was written? Was it informative? Did it have any errors? Or is it something that you would be proud of posting on your website?
Forget about using keywords
In the past, anchor text was everything. The more keywords you used in your anchor text, the more chance that particular keyword would rise to the top.
Today, things are a lot different. If you want to rank higher, you have to trust the link building service provider when it comes to building links for your website. A natural link profile is used to have an anchor text that is all over the place, including your brand name, some primary keywords and random sentences. The more you vary your anchor text, the more natural this is going to be seen by Google.
With all of the above being said, steer clear of the companies that want you to excessively using your money keywords. Instead, you're going to focus on a company that really works hard to build natural links that Google actually loves.
Stay on a safer side
Even if you think you may have found a company that you may want to use, don't use your main website just yet. If you want to play safe, consider linking out to a web 2.0 property or a website that you really don't care about.
The main reason you're going to want to do this is that if the company was to take part in unnatural practices, you wouldn't have to worry about that website becoming penalized. As you build trust with the company, you can slowly start buying services that point to your main website.
With tens of thousands of services out there, it is important that you treat this service as an employee. Don't be afraid to ask a lot of questions and avoid signing up with something you don't understand.
Spammy directories
Never deal with spammy directories or lower quality web pages. The content written in these directories is of the lowest quality and this will be a negative effect on your website if you buy these poor quality backlinks. The search engine like Google is most likely to detect these low-quality links on your website and will penalize you for the same.
Back-link exchange programs
You should avoid taking part in the backlink exchange programs. Although this works fine for your website to gain traffic, it has its drawback which leads you to pay for a penalty when detected by Google.
Exchanging other links to your website can be risky as your backlink profile can be run over by spammy blogs, unreached emails, or any kind of reciprocal links. Google can detect this activity and will penalize or ripped you off.
No-follow instead of do-follow links
When you get a backlink which is high in price, you should take special care to protect this backlink. When you are dealing with do-follow links whether for buying or selling them you should be very careful.
This means that if you buy a backlink, you should tag or mark it as no-follow, which is recommended otherwise google will rip you off and regard this as a manipulative backlink.
Apart from the above methods, you should also consider the following precautions
Sitewide Links
Never buy sitewide links ( links in the sidebar, footer, navigation ) which is suspected to be spam links by the google.
Avoid link selling services
The service or individual who sells backlink packages and contracting a link selling service such as sape can openly be violating the rule and norms of the google and will earn you penalty for this.
Red Flag Websites
Websites that have been previously penalized and relies heavily on content-thin ads heavy pages are termed as Red Flag Websites or blog. You are strongly recommended to avoid making a deal with these Websites.
Conclusion
Over the years, tech giant Google has brought about changes in their search engine ranking methods and policies for websites. It now uses bots to find backlinks on websites.
Thus, if a website is found using backlinks, Google will automatically display warnings and you will also notice a drop in traffic and keyword ranking.
Although search engine service like Google is against the use of backlinks on websites, yet its use is still in existence.
Since, Google keeps updating their search engine policies and are constantly applying strict measures to counter the use of backlinks on websites, a piece of advice is either abstain from using backlinks or, if you do wish to carry out such practice, then use it at your own risk.