By now most people already know what guest post or guest posting is all about.
As such, it's wide use in businesses have made this form of marketing brands, products, and services more robust around the world.
Guest posting is also a way to reach out to other individuals by publishing your content in the blogs. Which are owned by other businesses or individuals.
This is especially carried out for the purpose of building authority links and getting more brand outreach in order to successfully grow one's business.
On the other hand, backlinks are mostly used in search engine optimization (SEO). The sole purpose of a backlink is simply to provide incoming links to the source website or webpage. Which can be your site.
When a webpage linked to another page, it is called a backlink. So, a web page with lots of backlinks may tend to rank higher on all major search engines, including Google.
You can also analyze the backlinks of your competitors and acquire them for your site. Let's first we are discussing the advantages of backlinks.
What Advantages Of Backlinks Have In SEO?
Backlinks have certain advantages in SEO that can really help in ranking a site.
It is necessary to have backlinks from quality sites and those backlinks should be contextual. For instance, if your site is about selling home appliances, then you are creating links from other niche sites that can help serve your purpose.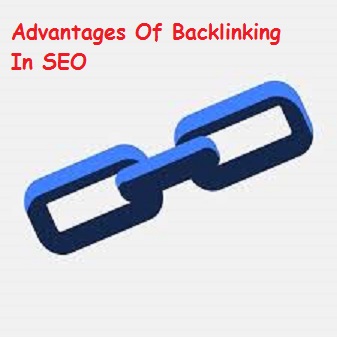 Thus, your objective should be getting links from the authoritative and relevant site only and not from sites that have no relevance to what products you are promoting to your consumers.
Given below are some important advantages that backlinks often have in SEO.
1. Improves Organic Ranking
It is true that backlinks can help your site get better search engine ranking and, in turn, increase your exposure to online visitors.
This is accomplished through SERP, which stands for Search Engine Results Page. If your posts are getting links from other sites, then the information you post will naturally start to rank higher in the search results.
Also, you must create links to individual posts or web pages along with those leading to your site's homepage.
2. Faster Indexing
Search engines require backlinks in order to find your site and place them on their results page so that your site can be made available to others easily.
Search engine bots and their use of algorithms discover new websites and web pages by following backlinks from existing web pages.
Therefore, only when they have discovered your site, they can crawl your site effectively. Otherwise, it will become difficult for search engine bots to find your site if you do not have any backlinks.
In the case of a new website, it is important to get backlinks as they can help in faster discovery and indexing of your site.
3.Referral Traffic
Referral traffic is another major advantage of backlinks to SEO. A person who is sending a post may click on links in the post to find out more about the topic or information at hand.
Since many people click on links voluntarily, they are usually more targeted and are less likely to leave the page quickly, which here can be termed as a 'low bounce rate'.
Thus, referral traffic is targeted and has a low bounce rate.
4. Promote Your Brand
If you want your brand to become a popular name, then this is the place. Because backlinks promote/build your brand.
As Google sees these links as a good sign that your website provides useful information than consumers also see it as a good sign that your brand is where they should be interested in.
Therefore, while high-quality links on popular websites will greatly benefit your SEO. They will also help the consumers to attract your brand through the association.
5 Best Tips To Benefit From Guest Posting
When it comes to search engine ranking and generating higher traffic, backlinks play a vital role in guest posting.
The benefits of using guest posting are that you get better exposure in the new viewers and you also get better backlinks for your websites.
If your posts contain relevant information, then you can get a considerable amount of traffic to your site and increase the chances of conversion as well.
In such cases, if the information about your brand, products or services creates an interest in online visitors, you will be able to make a better sale.
Guest posting has always been an extraordinary SEO and advertising tool for business owners and marketers.
Here is how you can also benefit from guest posting and increase your outreach, not only on search engines but having more visitors to your website.
1. Find websites or blogs that are suitable for guest posting
In order to get started, you will need a platform where you can publish your posts, which can then be linked backed to your own website.
Backlinks are essential to SEO and they are important for your online success as well. So, it is always best to look for sites that are in common to what product or service you are promoting to consumers.
When you write a post for other people's sites or blogs, in exchange for a free post, the site or blog owner will usually allow 1-2 links back to your site within the post.
Simply look for sites or blogs that accept guest posts and make your way up there.
2. Provide relevant information
If you want backlinks to serve the purpose of your guest posts correctly. It is important to include relevant information to the products and/or services you are promoting.
This will also have an impact on your visitors, traffic, and conversion. If the information in your post is helpful, people will be happy to link to it.
Once you've published your awesome post, it's time to send some outreach emails. A good group of people to reach out to are those who have published articles on the same topic.
Since they have written on that topic before, there is a higher probability that they will be interested in viewing your post.
To find such people, simply enter the topic of your article on Google Search and collect the list of articles that appear in the SERPs.
3. Find and recreate broken links
Broken links are the type of links to pages that never exist.
Since the web is always constantly evolving, there are several hundreds and thousands of pages which are either moved or deleted from time to time.
Webmasters and searchers do not usually like broken links because they contribute to poor user experience.
The concept of using this strategy is simple – find a broken link then recreate the dead content and reach out to people linking to that dead content and ask them to link to your recreated version.
The most important part of this strategy is finding the right broken content to recreate and pitch. There are, of course, tools available which you allow you to analyze backlinks.
4. Submit your post to web directories
An easy way to get backlinks to your site is by submitting your posts to web directories.
Although this method may not be very popular, since finding a legal web directory is pretty difficult. However, you must avoid those web directories that usually ask you to create a backlink to their website in order to get your website into their directory.
Avoid using automated direct submission technique because doing so will cause your posts to appear like spam. It can further harm your domain authority or completely remove your post from search engines.
5. Actively check and answer to comments
When you start guest posting and people respond to you through comments on your site. It is important that you stay actively available to respond back to them.
This will further increase your chances of promoting products or services and also building trust with the people.
On the off chance that you choose to guest post all the time, it is best to keep a document with every one of the links to your guest posts and check them at any rate – once per month for new remarks or just to ensure the post has not been erased.
Guest posting is an effective tool and you can utilize it to elevate your posts and get backlinks to your site.
Conclusion
In the event that your business can benefit from more search visibility, more brand authorization, more traffic, and a better competitive edge than you should work on a link building campaign.
If you frame your links in good, valuable, relevant content and keep your links valuable to your users. Then you should not have any problem in earning recurring, compound returns for these benefits.