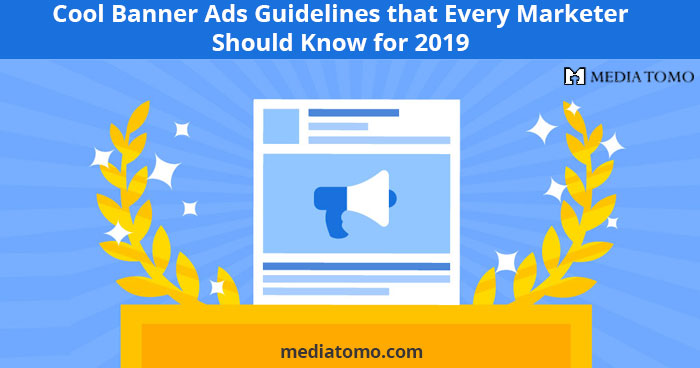 Being a marketer requires you to have both creative talent and sophisticated tools in order to get your job done successfully.
The same applies to create cool banner ads for all sorts of websites that can help you generate profit by attracting as many visitors you can.
Marketers are proficient at selling products and services to customers through advertising.
As such, online advertising today has gained immense popularity and has also become one of the major sources of generating traffic and profit.
Here we are discussing the following:-
Meaning of Banner
Banners are one of the most visual element that bearing a slogan or design, with the intent of representing a company, organization, government or other entity.
These days a banner can consist of several different materials, all with varying degree of thickness, and durability.
Get Used to These Principal Banner Ads Examples for Positive Results
Here are some cool banner ads examples that every marketer should know and implement to get a far larger response from visitors.
Select the Effective and Standard Banner Sizes
For an attractive and efficient Banner, you just need a specific size of banner according to your content of the message.
According to the Google AdSense Help, the top performing and effective banner sizes are:-
300*250px – Medium Rectangle:- This ad format supports both display/text ads, and it can also be used on mobile layouts. The best part about this ad size is that it,s easy to fit in the sidebar or inside the content area without annoying users.
336*280px – Large Rectangle:- It is large and more noticeable than the medium rectangle ad, but it may not fit in all website sidebars and is not mobile optimized. If your website's sidebar or content area is a bit narrow, then the ad could compress the content which is not good for users.
300*600px – Half page:- It gets attention from advertisers who want more ad space to effectively communicate their message during retargeting. It is also becoming more popular among publishers because it tends to give more exposure for brands which means better-paying ads.
You can place the large structure in the sidebar or next to the content. However, it may not be a good fit for all websites, due to its size.
728*90px – Leaderboard:- It is an offline banner ad size that is perfect for websites header. It implements both text and image ad formats but doesn't support mobile ads.
320*100px – Large Mobile Banner:- Large mobile banner is a mobile ad format, and it is an equivalent of the leaderboard ad format in terms of effectiveness but for mobile devices. Since mobile traffic makes up a good lump of users for most websites, this ad format gets a better ad inventory. Commonly, it works best when placed on top just below the header.
Design Authentic Banner Layouts for Websites
The first thing you will need to do is consider giving an authentic design to your web cool banner ads, which will be displayed on the website you desire.
Your web cool banner ads should contain balanced colors, images, etc., and must look neat and attractive to your audience.
Having a proper banner layout will ensure that it can be placed at various important regions of the website and to be displayed correctly.
You can, of course, use templates to give your web banner a more interesting appearance.
Use Eye-Catching Fonts/Typeface
The next important thing is the type of fonts you are going to use for the web banner.
A clear font is usually suggested while using light, thin and cursive fonts are strictly not allowed. You can choose from thousands of fonts online for your web banner.
Choosing the right size for the fonts is equally important which should also match the size of your web banner.
It is necessary a banner should be easy to read and understand in just a few seconds.
Choose the Right Background for Your Web Banner
You can make your web banner look more appealing by adding background images, patterns, colors, or perhaps, trying out monochrome effects.
When using fonts, colors, and background on your web banner, the message should be delivered to the audience and, if possible, they might just click on it and you will get traffic and in turn, earn revenue.
Be careful not to use overly bright or dark colors which may not be properly visible due to the background you have applied.
However, if you need sometimes more than a monochromatic background, you will have to choose a specific pattern or an image.
At this point, it is important to take into account the front and especially the color of the letters that form your message. Light color letters with a bright background will be hard to read and understand so avoid it.
Blend Product Image/Logo with Unique Text Style
If you are advertising a specific product or, maybe, the logo of your business, you will want your audience to notice the banner on the website they visit and click on it.
Since marketers need to convince audiences about products, a direct message on the banner ad will add to your objective. Pairing attractive images with font style for your web banner ads will easily help you gain the attention of your audience.
Choose applicable graphics and photos that enhance your message and are directly related to your product.
Use Meaningful Illustrations
Many brands use illustrations to convey their message to the audience directly and it is effective.
There are quite a lot of companies that use illustrations, where the imagery can be directly associated with the brands and as such, the audience will find it even more compelling.
You will come across popular brands that use imagery and illustrations that make audiences recognize their products.
Target Your Niche
Sometimes, banner ads can also be at their best when they are targeted to a specific niche.
It will rather seem useful and important to a wide group of audiences, especially if they specialize or are beginners for what you are advertising on your site.
For example, displaying ads for products or services like Internet of Things (IoT), web and programming languages, etc., are some niches that might help you deliver your message to a large number of enthusiasts.
Choose the Right Placement for Web Banner Ads
If you are having too many or enough content that is relevant to the ad that you wish to have displayed on the site, it becomes important where you place them.
There are a couple of options such as, using the top, bottom, left and right sidebars, which are usually the most desired spots for placing banner ads on any given site.
Depending on the size of the banner ads, their placement will matter and will also affect how your audience will respond to the ads each time they visit your website.
Use Animation
Animated web banner ads can be very effective in websites banner design, but you should be remembered that they don't distract from the message of your ads.
Avoid the complex animation and use simple animation that lasts no more than 15 seconds.
Small File Size
Always keep in mind that the size of the file is smaller because of the smaller the batter, your ads need to load fast on a page.
Don't Miss to Use White spaces
White spaces are important in this context because they add to the banner by giving all its elements the necessary breathing space.
Hire a VIP to Promote your product and Brand
Nowadays it is common to hire a VIP like an actor, cricketer, and so on. It is also an effective way to attract customers and also provides better results.
Types of Banners
There are two types of banners:-
Offline advertising banner
Online advertising banner
Offline Advertising Banner
The few most popular types of offline banners are as follows:-
Pull-Up Banners:- It is also known as retractable and roll-up banners. They are attractive and tends to be around 6 feet tall and widths depend on custom specifications. They are cheaper and also easy to transport.
Pop-Up Banners:- They are the most versatile and portable kind. This type is perfect for indoor use like office and halls. Installation may not be convenient as Pull-up banners, but a few minutes should be enough for setup and taken down.
Mesh Banners:- This type of banners are semi transport and most commonly used in the development/construction area to signify boundaries between Walker and workers. The major benefit of such kind of construction is that allows the banner to brave harsh winds and inclement weather outside, while still serving the primary function of branding or advertising.
Vinyl Banners:- It is a great choice to promote an outdoor space. They can be quite heavy in comparison to their cloth counterparts, and they can crease if stored improperly or stepped on.
Fabric Banners:- It usually used indoor, and consisting of polyester or satin by which these displays are the perfect solution for any business that needs a high-quality banner with little or no setup time.
Online Advertising Banner
The few most popular types of online banners are as follows:-
Flash Banners:- By using Adobe Flash technology, a flash banner creates an animated banner. This may start with a single image or background, and then changes to something else entirely. It might be a short movie, and often will use sound.
Animated GIF Banners:- GIF stands for Graphical Interchange Format. It is an animated creation that contains an image or text that's formate in GIF. They are much easier to design than flash banners, have a very small file size, and contain multiple animations and slides. So, they decrease the load time of a page.
Static Banners:- It is a type of banner that doesn't move or that are enclosed in still, single frames. They are often much less intrusive and annoying to a user, which can be more attractive to many.
Static banners are also much less expensive, and easier to design, than flash and animated GIF banners.
Cost of Banner Ads
The cost of cool banner ads depends upon the size of the advertisement. Here this page gives you a rough idea about an experienced and professional company banner cost related to size.
| | | | |
| --- | --- | --- | --- |
| Cost | Sizes | Cost | Sizes |
| $20 | 120*60 (Bottom) | $25 | 120*120 (Bottom) |
| | 120*90 (Bottom) | | 125*125 (Bottom) |
| $28 | 200*200 (Small Square) | | 234*60 (Half Banner) |
| | 250*250 (Medium Square) | $33 | 728*90 (Leaderboard) |
| | 468*60 (Full Banner) | | 300*250 (Medium Rectangle) |
| $39 | 300*600 (Half Page) | | 336*280 (Large Rectangle) |
| $49 | 851*315 (Facebook Cover) | | 120*600 (Skyscraper) |
| $79 | 1000*550 (Homepage Sliders) | | 160*600 (Wide Skyscraper) |
Conclusion
Advertising banners are one of the best ways to draw more attention to your brand and to attract more fans and customers.
However, if you want your cool banner ads to be noticed, you should follow these tips that can help you make a difference in the world of online advertising. And, if used with great creativity and the needs of audiences, you will be a step ahead toward success.